Print This
---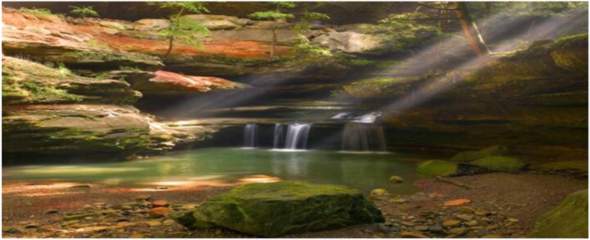 Soaking Prayer is taking our nation, our churches, and the body of Christ by storm. Or should I say, "By saturation"? Soaking groups are springing up everywhere, in homes and in churches. Soaking is not a new phenomenon, just an acceleration of what we used to call "tarrying" or "waiting on the Lord." It takes "waiting on the Lord" to a whole new level, ushering the participant into deeper realization of and communion with the Holy Spirit.
In the hustle and bustle of today's society, many Christians feel consumed and overwhelmed by the environment around them. Desirous of being close to God in intimate ways while embroiled in the busyness of life is compelling believers to flock in droves to soak in His presence. As an avid worshipper of God and an ardent proponent of Soaking Prayer, I hope to shed some light on this remarkable tool and its ability to increase intimacy and bring about a deep life-changing communion with God. It has transformed my life, and I know it will transform yours.
First, I would like to establish a biblical basis for Soaking Prayer through the following scriptures. I encourage you to look up each one and meditate on them.
Psalms 23:1-3 – "The LORD is my shepherd; I shall not be in want. He makes me lie down in green pastures, he leads me beside quiet waters, he restores my soul. He guides me in paths of righteousness for his name's sake …"
Psalms 131:2 – "But I have stilled and quieted my soul; like a weaned child with its mother, like a weaned child is my soul within me."
Psalms 4:4 – "In your anger do not sin; when you are on your beds, search your hearts and be silent. Selah."
Psalms 37:7a – "Be still before the LORD and wait patiently for him …"
Matthew 11:28-30 – " Come to me, all you who are weary and burdened, and I will give you rest. Take my yoke upon you and learn from me, for I am gentle and humble in heart, and you will find rest for your souls. For my yoke is easy and my burden is light."
Here are several other scriptures you might want to look up, including: Hebrews 4:9-11; Isaiah 40:29-31; Psalm 27:14; Proverbs 1:33; Luke 10:39 and Hosea 2:14.
We can see a repeated concept in the above scriptures – cease, rest and wait. Soaking is a time of rest and complete surrender to the person, Jesus Christ and saturation by the presence of the Holy Spirit. For so long, we have felt the only way to reach God is through our works or striving in prayer. In no way am I diminishing a type of prayer that strives in intercession. I believe and participate in striving or intercessory prayer. However, today I wish to explore another way to plunge into the depths of communion with God. Let's get started.
Common Practices
In Soaking Prayer groups, it is often common to play a worshipful or instrumental CD softly. Participants are encouraged to rest in a way comfortable to them, a way conducive to receiving from God whether it is sitting, standing, lying down or reclining. Whatever works for you is fine so long as you are comfortably positioned to receive. It usually takes a bit of time, ten to twenty minutes, to relax and allow the Holy Spirit to begin to move and bring a restful sense to your heart. Pray and ask Him to search your heart and see if there is any hurtful way in you (Psalm 139:22-24). Surrender everything to Him, and invite Him to be exalted in your worship as you focus on Him. Expect to receive as the cares of the world and issues of life are pushed aside for a time of focused adoration.
As this happens, impressions or scriptures come to mind for the Lord wants to renew and invigorate areas of your life. Many times during Soaking Prayer the Lord has given me the wisdom I needed, comforted me, corrected me and encouraged me in His love – all at the same time. My times of soaking have been some of the most amazing experiences of my life.
Never Be Afraid
You never need to be afraid of the Holy Spirit. He is gentle above all. Everything He shares with you will be based on the Word and draw your focus to Jesus. God gave you your imagination and can use it to show you wonderful things. The enemy has long and successfully sought to pervert the use of our imagination, causing many Christians to be afraid of letting the Holy Spirit direct and use theirs. The Holy Spirit will always draw you to the Lord and His Word.
Expectations
During these times, you may feel the weight of His presence hovering over you, touching you. The more you soak in His presence, the more encounters you will have, the closer you come to the Lover of your soul. Like any other relationship, the more you give, the more it grows. Impressions given to you by the Holy Spirit during this time might be of you "holding or hugging a friend," symbolizing the Lord holding you. He could also be telling you to hug or hold a friend or family member, literally or in prayer. These types of impressions are common in Soaking Prayer, so don't be afraid. Trust Him to lead and guide you into all truth (John 16:12-14).
Common Experiences
During soaking, some common manifestations are weeping, sensations of joy, the heaviness of intercession, increased energy, feelings of revitalization, overwhelming outpourings of love, recollection of certain scriptures; some simply fall asleep. All are valid experiences based on the needs of the person. There is no set amount of time for soaking; you simply soak as long as you wish or your schedule allows. You will know when it's over as a sense of satisfaction fills you. Remember, you can always come back for more and are not limited to a church group. You can also soak alone or with your family and friends.
At Every Opportunity
Grab, with a sense of anticipation, any opportunity to cease striving and soak in His presence, and you will be amazed how the changes on the inside display themselves on the outside and to the world around you. Soaking Prayer is an adventure that takes one deep into the realm of God's heart – a place of communion where two devoted hearts, yours and His, meet.
Look for upcoming articles or devotions on Intimacy with God, Contemplative or Meditative Prayer and How to Journal the Heart of God.
If you like this article, then please subscribe to my
full text RSS feed
. You can also
subscribe by email
and have new articles sent to your inbox.