Print This
---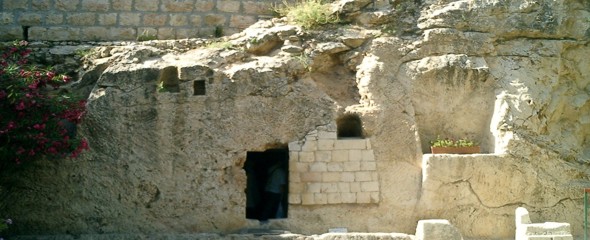 Written by Ruth McCormick and Co-authored by Brenda Craig
Living Between Death And Resurrection
Yes, many are living somewhere between death and resurrection. We may overcome in one area to find we need resurrection in another. This process renews our mind and causes us to have the mind of Christ line upon line and precept upon precept to take us from glory to glory…taking us to the place where we can say, "It is truly finished!"
As I promised we will go a bit deeper into the concept of death, resurrections and victory.
Let's look at what happened after Jesus gave up His spirit. What happened? Well for one, the whole earth knew it. The earth travailed and shook and a great quaking took place. There is a great shaking and quaking taking place right now, for there are many Sons of God who are entering into the place of Surrender before Resurrection. The whole earth is in travail and anxiously awaiting the revealing of the Sons and Daughters of God.
After Jesus committed His spirit He spent three days in the center of the earth-a place of darkness- a place He had never been before. It was a place we would go to through the experiences of our life. He went before us as the Breaker…breaking open and preparing the way for us to walk in victory over death, hell and the grave. We may not physically go to the same place but we experience many things in this life which cause us such pain and suffering is feels as though we are in the pits of hell as well.
The Processes Of Life
There are different phases of the process of our life and just because we may not see the light at the end of the tunnel does not mean we are still on the cross and dying in the midst of our afflictions. It could be that we are in a place of darkness getting ready to contend with what has contended with us and do it in the power of His name. He contends for us and with us.
Have you ever stopped to think your darkness and uncertainty as a prelude to victory…do I stop to think my darkness or uncertainty as an entrance into my greatest breakthrough? It is worth stopping to ponder to Selah. Jesus overcame so we can overcome.
When Jesus Steps In
When Jesus steps forth in our lives, having died to self in a most horrible way, we will truly overcome as He overcame. In fact the Word says anyone in Christ is a new creature and old things have passed away and all things are becoming new. Have is to be dead and gone and "are" is an ever present tense action word. Each moment of your life you are continually becoming new.
You see, it will not be by fight in our own might but by His Spirit and His Spirit alone. This is a win/win situation. It is a fixed fight for the right hand of the Lord stretches out valiantly over us and nothing is impossible with Him.
Think about all the battles you have encountered, and when you stepped into the ring you knew that because you were in Christ the victory was already won. However; being truthful, there were probably quite a few times you felt less than victorious. In fact you may have felt a little beaten up. You may have lost a few battles, but you did win the war and hand and will win the ones to come. The results of a few lost battles have at times left you stranded on the sidelines as a wounded soldier for a period of time. Why, because at times there is too much of ourselves in the battle; we fought with a mixture of our self and His Spirit.
However, all is not lost because God turns evil for good and causes all things to work for good. Now that you and I have endured and learned has prepared us to the point we can any upcoming "Showdown" with confidence in the One who is able.
The Power Of His Blood Births Christ In Our Lives
We will not only have the victory but we will feel the victory as the power of His blood runs through the veins of our lives. As we stand and fight in the power of His blood…in the might of His Spirit…in His might name, we will step into the unseen realm and enforce the victory already won…the victory just waiting for us to walk in it.
The keys of death, hell and the grave have already been taken. They can no longer lock us up, chain our life or the lives of our family. We are longer chained to the bondages of life or the plans of Hell. Having endured the dying process we enter into the fight as Jesus did, for Christ within you and I will have been birthed.
Out of this birthing the enemy is defeated for when he sees us he sees Jesus and knows he cannot win. He knows all his attempts to mess up, lie to and temptation to eat from the tree of evil will fail. For in the dark places we find ourselves become the staging ground for the victorious manifestation of Christ as we are sheltered by and hidden under and by the shadow of His wings where not foe can enter. We are under the radar so to speak. And just as Jesus went and confronted Death, Hell and the Grave stripping them once and for all of all their authority, so shall you and I enforce this same victory on the enemy's plans and schemes for our life. We will see a release over our lives, families and all concerning us as never before seen.
Death Is?
Death is anything and everything that opposes life…opposes the abundant life…anything coming to kill, steal or destroy. I can be your own words of agreement with what you see and not what He says. Our tongues or the tongues of others create most of the death we experience. What are your words releasing; life or death. Something worth thinking about.
When death is confronted with the abundant living Christ in and through us, we see a release from infirmity, and disease. When we forgive God, others and our self we see a release of life. All are means by which death prospers and shuts down the ability to overcome. However, words of life and agreement with God will shut down the ability of darkness to bring death to not just the physical but the financial and relational as well.
Take away the authority of Hell though the power of the Cross and your submission to it and you shut down the enemy's plans and schemes…plans and schemes of torment, hindrance and harassment as he bombards your life with pain and suffering…as he causes obstacles to be thrown in your path and destruction to abound. All his plans are laid to waste and what he meant as a grave becomes a womb…a womb which births you right out of your past into His very present Glory. Can you shout Glory? I can.
All the anointing we receive along the way is like the anointing Jesus received at Bethany…the empowerment and ability to walk out a death to resurrection process. There is more than enough for us, for we are in Him and He is in us.
Take some time to meditate and ponder what we have discussed and we will discuss more on the DNA of God and the stripping of satan's power as we lean in to hear the whispers of His heart in the days to come.
If you like this article, then please subscribe to my
full text RSS feed
. You can also
subscribe by email
and have new articles sent to your inbox.