Print This
---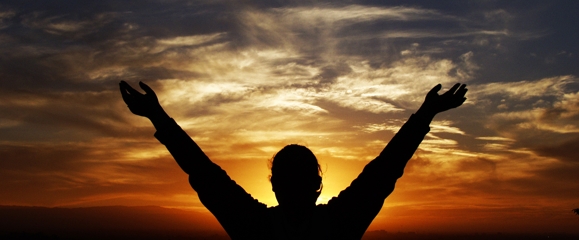 I am your Father, and I love you even as I love my son, Jesus. John 17:23
What is a Declaration?
Simply put, it is an emphatic statement, affirmation, speech or pronouncement. It is something when done from a spiritual perspective , for maximum benefit, should be done out loud. After all, faith comes by hearing and hearing by the Word of Christ. When we declare the Word of God and dare to believe what He has said in lieu of what we see, feel or hear faith comes.
Imagine that! Have you ever thought of faith as something that comes in response to something you do…in response to hearing the Word. For the most part, we believe our own selves the most and if you're not convinced reflect on how much you listen to your own self-talk…especially the negative.
In light of our tendency to receive and believe the negative, we must step up to the plate and aggressively speak the Word in our lives until faith comes. Time had come to take out thoughts captive to the obedience of Christ and His Word…time to replace the negative with the positive regardless of how we think or feel. The Word is endued with power and continues to grow. When planted in our heart it continues to grow as we nurture it by meditating on it and coming into agreement with it (Colossians 1:6).
How do you do this?
Find your area of struggle and take action.
What do you have trouble believing in? Is it healing, being loved by God, the provision of God, the goodness of God, being chosen by God or so on and so on? There may be many but just pick one to start with.
Then What?
Recognize the negative…look for God given opposite and attack the problem with the power laden truth that makes the devil flee.
Take your area of struggle and then in turn find all the Scripture you can that express what God says on the matter. Begin to speak these scriptures in first person as if they already are manifest in your life (example declaration below). This is called coming into agreement with the promises He says are already yes and amen in Him. This is not presumption. It is agreement and agreement pleases God.
I took Anthony's Scripture response to What Do You Really Believe? and wrote a first person declaration of agreement. I have included the scriptures as he gave them and a declaration written in response to them. There are many  more Scriptures you could add about the love of God and feel free to if you so desire. However, this is a very good start.
Use this as an example on how to formulate your own decree in your particular area of struggle or just to build faith in any area of your walk with the Lord.
Scriptures About God's Love And Provision
It is my desire to lavish my love on you. 1 John 3:1
Simply because you are my child and I am your Father. 1 John 3:1
I offer you more than your earthly father ever could. Matthew 7:11
For I am the perfect father. Matthew 5:48
Every good gift that you receive comes from my hand. James 1:17
For I am your provider and I meet all your needs. Matthew 6:31-33
My plan for your future has always been filled with hope. Jeremiah 29:11
Because I love you with an everlasting love. Jeremiah 31:3
My thoughts toward you are countless as the sand on the seashore. Psalms 139:17-18
And I rejoice over you with singing. Zephaniah 3:17
I will never stop doing good to you. Jeremiah 32:40
For you are my treasured possession. Exodus 19:5
I desire to establish you with all my heart and all my soul. Jeremiah 32:41
And I want to show you great and marvelous things. Jeremiah 33:3
If you seek me with all your heart, you will find me. Deuteronomy 4:29
Delight in me and I will give you the desires of your heart. Psalm 37:4
For it is I who gave you those desires. Philippians 2:13
I am able to do more for you than you could possibly imagine. Ephesians 3:20
For I am your greatest encourager. 2 Thessalonians 2:16-17
I am also the Father who comforts you in all your troubles. 2 Corinthians 1:3-4
When you are brokenhearted, I am close to you. Psalm 34:18
As a shepherd carries a lamb, I have carried you close to my heart. Isaiah 40:11
One day I will wipe away every tear from your eyes. Revelation 21:3-4
And I'll take away all the pain you have suffered on this earth. Revelation 21:3-4
I am your Father, and I love you even as I love my son, Jesus. John 17:23
For in Jesus, my love for you is revealed. John 17:26
He is the exact representation of my being. Hebrews 1:3
He came to demonstrate that I am for you, not against you. Romans 8:31
And to tell you that I am not counting your sins. 2 Corinthians 5:18-19
Declaration Of  The Lord's Love And Provision
I am loved by the Lord with a lavish love simply because I am a child of the Father. No matter what I experienced at the hands of man or any earthly father, I am loved by God.  He gives me more than any man can or ever will.

My heart is fully open to receive all He is and all He has for me. I receive the gracious gift of His heart today for He is a perfect father in every way. All good gifts come from His hand and His hand is stretched out to me, full and running over. He has provided for me and is providing for me in every area of my life. Everything I need is found in Him and the abundance of His giving heart. The plans laid out for my life before the foundations of the world are in His hands and He is implementing them in every area of my life. Not one moment of my life escapes His attention and in the process He infuses me with hope for He loves me with an everlasting love.

The thoughts of the Lord toward me cannot be counted and are as numerous as the sands of the seashore. Right now He is rejoicing over me with singing and is doing good toward me all the days of my life for I am His treasured possession. I am established by the Father for it is the complete desire of His heart to do so. Nothing is impossible with God, therefore; the establishing of my  purpose and destiny is His priority this very moment and every moment after as He shows me great and mighty things. I will not miss the voice of the Shepherd as He reveals His plans for me for I hear the Shepherd's voice and do not follow another…not even the voice of my own negative thinking or self-talk.

I am one who seeks the Lord with a whole heart. My heart belongs to the Lord and the Lord alone. He is Lord of my life in every way. I am a seeker and a finder of the Lord. The delight of my heart is in and for the Lord alone. I am delighting in Him and am receiving the desires of His heart as my own. I in turn am walking in the desires of my heart which came from Him in the first place. Nothing is impossible and He is doing more than I could ever imagine with my life through the power of love and constant encouragement. The Lord is my encourager today and I depend on Him and do not sway to any negative words of  men.

I am comforted by the Father in all my troubles, therefore; I am not dismayed. I am a fortified city…a light on the hill and nothing can by any means harm me as I abide in the secret place of His love. Offenses have no power for I give all broken places of the heart to Him and leave no room for unforgiveness. The Lord is close to me in my brokenness and loves me with a tender heart, calling me His own.

I am one who surrenders every broken or offended place to the Lord as He carries me like a shepherd carries his sheep. The Lord is my Good Shepherd and when I abide with Him eternally all tears will cease…all the pains of this life will be gone forever as I dwell in the fullness of His presence forevermore. All suffering in this life does not compare to the beauty of love He gives me right now and every day after. I receive love to overcome and be faithful. I receive love.

The Lord God is my Father…a father like no other and I am His son. I am loved by the Father as much as Jesus is loved by Him. As I abide in Jesus and Jesus abides in me the love of the Father is revealed in my life through His shed blood on the Cross. When I see Jesus I see the Father and when I know Jesus I know the Father for He is an exact representation of the Father. The demonstration of the Father's love is manifest in Jesus and because Jesus is in me I also am a representations of the Father as I walk not according to the flesh. I walk according to the leading and guiding of the Spirit.

Today I am washed white as snow and my sins are not counted against me. The blood of Jesus is the  most sure representation of the love of God for me. I receive all His blood has done for me and will not despise His love or belittle it in any way. I am one who loves God and is loved by God. He loves me and I love Him. I am walking in a daily manifestation of love toward God, toward others and toward myself. I am loved and I love. Amen

Scripture References: 1 John 3:1. Matthew 7:11,  Matthew 5:48, James 1:17, Matthew 6:31-33, Jeremiah 29:11, Jeremiah 31:3, Psalms 139:17-18, Zephaniah 3:17, Jeremiah 32:40,  Exodus 19:5, Jeremiah 32:41, Jeremiah 33:3, Deuteronomy 4:29, Psalms 37:4, Philippians 2:13, Ephesians 3:20

2 Thessalonians 2:16-17, 2 Corinthians 1:3-4, Psalms 34:18,  Isaiah 40:11, Revelation 21:3-4, Revelation 21:3-4,  John 17:23, John 17:26, Hebrews 1:3. Romans 8:31. 2 Corinthians 5:18-19
This blog  on the love of God is provided by Brenda Craig author of Carvings In His Palm. You can visit soaking with a purpose here 
If you like this article, then please subscribe to my
full text RSS feed
. You can also
subscribe by email
and have new articles sent to your inbox.